Ramverk Pro Front-access Carry-on Black Out
Ramverk Pro Front-access Carry-on Black Out
2 year warranty

Free Shipping

Free Returns
Model is 169cm
Ramverk Pro Front-access Carry-on Black Out
The 36L Ramverk Pro Cabin Size and Ramverk Pro Cabin Size with Front Access are the perfect weekend getaway bags. The innovative, only-one-of-its-kind, front access bag allows extra space for bulky camera gear and seamlessly integrates with our range of Camera Inserts - making it the perfect choice for photographers. The classic split-shell bag will appeal to both the everyday traveler as well as the creative.
| | | | |
| --- | --- | --- | --- |
| Dimensions | 56 x 39.5 x 23 cm | 67.5 x 46.5 x 28 cm | 74.5 x 50.5 x 30 cm |
Take control.

With the custom made sturdy telescopic handle.
Be fast.

With our 360* Hinomoto Ultra Silent Spinners.
Stay safe.

With our TSA approved locks.
Features
Tap a hotspot to learn more
Award-winning travel gear from Scandinavia
Award-winning travel gear from Scandinavia
Award-winning travel gear from Scandinavia
01
The Ramverk Pro Front-Access Cabin is Db Hook-Up System™ compatible. Attach your favorite accessories from the Db ecosystem to bring some added law and order to your travels.
02
50mm Ultra-Silent 360 Hinomoto Wheels
The ultra-silent Japanese Hinomoto wheels have been designed with durability, elegance and well, silence, in mind so you can be sure to get your gear from A to B smoothly.
03
Accessibility has been the main consideration for Ramverk Pro Front-Access Cabin. Access your bag and its contents while it stands and minimize your time spent holding up security checks.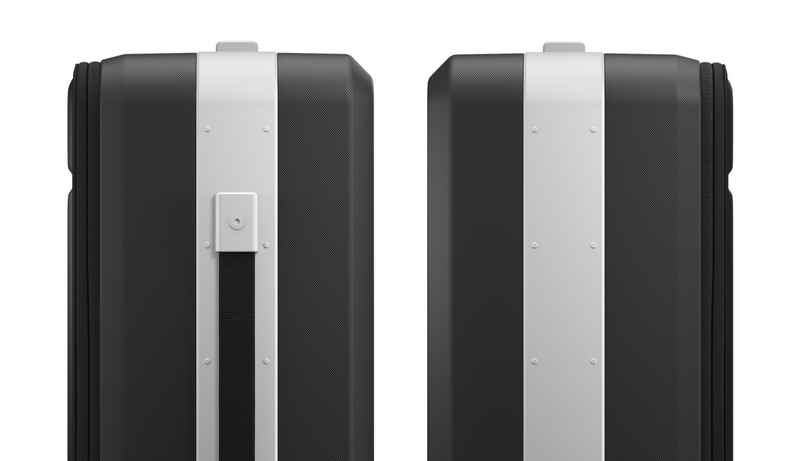 04
The unique build quality of an aluminum frame that merges the two hard shells together ensures unrivaled protection which, when coupled with the TSA locks on the zippers, means your stuff is truly safe.
05
Recycled fabrics on front flap and lining. Shells are made of 70% recycled Polycarbonate and an industry-standard recycled aluminum frame.
06
Retractable Webbing Handles
The retractable handles found on the top and side of the bag are customizable, and can be interchanged to best suit your personality. We like to see you put your own spin on our designs.
01
The perfect blend of robustness and design, the custom trolley handle will act as a torchbearer for a new industry standard for luggage handles.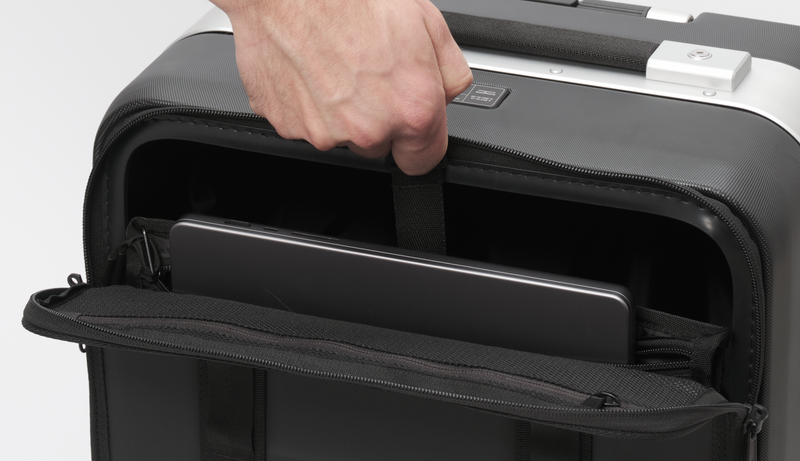 01
The laptop sleeve comes complete with an elasticated 'laptop elevator', meaning that with one tug, your computer is out of your bag and into your hands. Fits up to Macbook Pro 16".
02
A top-lid access main compartment, means that whether it's camera gear, hats or size 11 high top sneakers, you'll have an easier time fitting them in this than any other wheeled luggage on the market.
03
Made from 100% certified recycled Polyester, the lining is great for you but even better for the planet.
04
The compartment separators are fitted with two mesh pockets to hold your essentials and to ensure that everything you need is all within easy reach.